Growth, Leadership, and Technology Headline VAI's Virtual Customer Event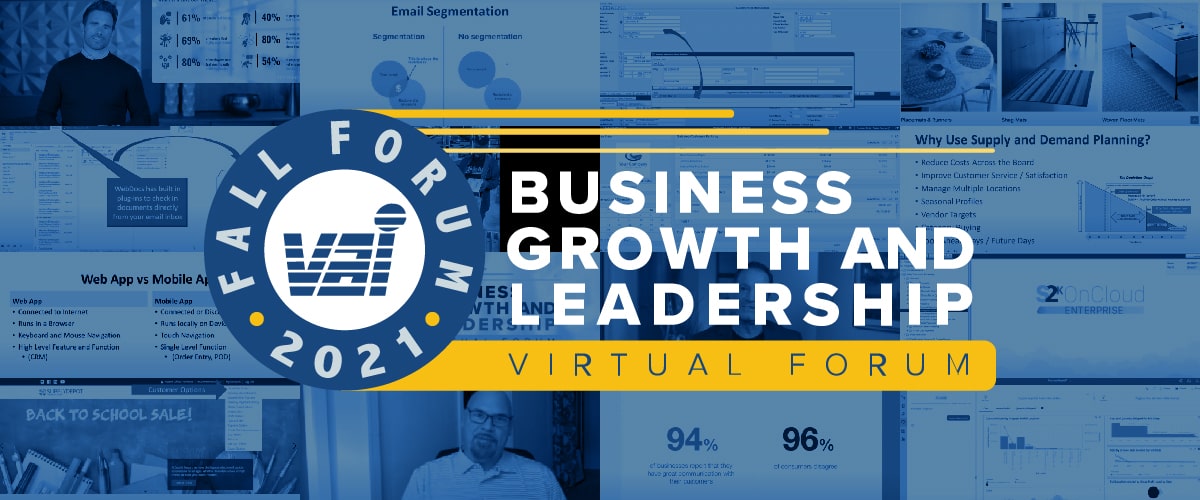 Our 2021 VAI Customer Fall Forum was held virtually this year, delivering a theme that centered around leveraging technology to achieve business growth, objectives, and leadership, while keeping pace with the rapid advancements of automation in a fast-changing world. Attendance was high across all industries, as S2K customers came see the scope of advancements within the S2K Enterprise suite of applications, plus review their technology roadmaps and share business insights. Hosting the forum virtually also gave many participants in each organization the chance to sign on and have a look at the technical components most important to them within their daily functions.
The day included special Business Growth Sessions, offering a finely tuned approach to leveraging VAI's software applications and technical interfaces. Several customers participated in these growth sessions, using real-world examples that provided a glimpse into how technology has reshaped their businesses. We spotlighted Analytics and Sales Force CRM tools for engagement and performance monitoring and looked at security and Cloud architecture for safety and efficiency. We explored Supply & Demand Planning to optimize inventory, and we talked about leveraging mobile devices to enhance Warehouse Management. We also highlighted digital communications through our new S2K Business Alerts application, powered by cloud communications giant, Twilio. Nearly 20 specific technologies were featured, each offering itself as a critical piece to successful automation.
Our Forum also featured a Virtual Solution Center, where VAI experts were lined up to show participants the latest functionality within S2K Enterprise, our ERP software suite of solutions for the hardgoods, food, and pharmaceutical industries. Attendees engaged with our experts and discussed their most pressing questions and industry challenges and looked at how S2K Enterprise can meet those needs.
Inspiring Keynote Speakers brought energetic sessions, and included internationally renowned expert, Seth Mattison, who dissected how companies are meeting customer demands with the digital savvy required to compete and win business in today's competitive environment. Globally recognized digital information expert, Sam Richter, explored how to use web search secrets to uncover opportunities and use information to differentiate from the competition and win more business.
Attendees also had the chance to meet with their team of VAI technology experts, to organize and plan for what's on the horizon. Many of our customers leveraged this opportunity to engage with their VAI team and review current and future initiatives for a successful tomorrow. It can be challenging for business to keep pace with the rapid advancements in technology today. That's why we are continuously committed to keeping our customers in step with automation, to understanding their business objectives, and to helping them achieve their goals with the latest technology from VAI and our partners.
At VAI, we believe in time well spent with our customers. Our virtual 2021 Fall Forum came at the right time and offered our customers the opportunity to be together with us virtually to explore the "why and how" technology can tremendously impact and reshape their future. We know that the practical steps we take now will help everyone thrive as we advance forward, and automation will be at the helm.
Bob Vormittag
Chief Executive Officer
Comments