The Rise of Contactless Payments and other Technologies in the Retail Industry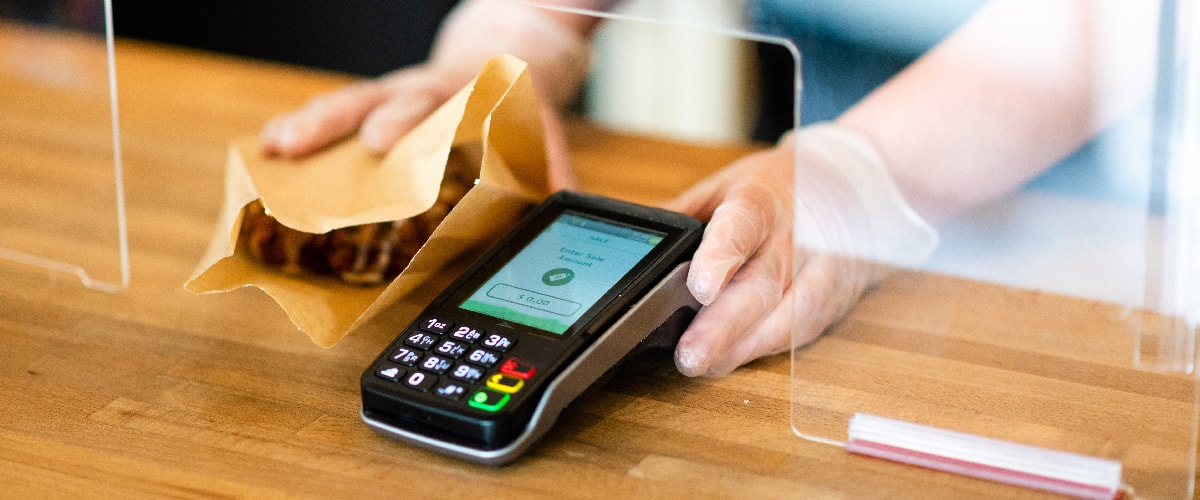 In 2020, the U.S. supply chain experienced significant disruption, particularly during the early months of the COVID-19 pandemic. The impact was sizable, with shortages of paper goods, food items such as meat, and certain cleaning supplies and other essentials. At the same time, national and state-wide lockdown mandates led to the temporary (and in some unfortunate cases – permanent) shuttering of many physical-location retailers. Virus fears caused shoppers to head online to order food, medicine, and other goods, leading to an unprecedented boom to eCommerce.
If more businesses and retailers had technology such as an ERP solution that incorporated eCommerce, mobile, IoT, AI, or automation processes including contactless payment in place pre-pandemic, supply chains would have fared much better, and many would not have experienced the increased delays in shipping or items going out of stock so quickly.
What does 2021 look like for retailers? If not already implemented, the following technologies should be on every retailer planning list as soon as possible.
eCommerce
As consumers continue to take precautions due to COVID-19, online and mobile shopping are likely to be the primary channels for brands, at least in the near-term. Retail companies will need to leverage eCommerce for sales growth and transition their operations from merchandising to order fulfillment. The need for eCommerce solutions will continue to grow as businesses require customer self-service applications to process customer orders and receive customer payments and provide customers with the information they require.
Mobile applications
Having a web presence alone is no longer sufficient for retailers as online activity continues to shift to mobile. This rise in mobile device usage means that mobile apps have become a key sales tool for retailers of all sizes. Retailers are relying more on mobile applications multiple variables such as: order processing, proof-of-delivery (POD), route sales and DSD, warehouse management, field service, and CRM/sales analysis. Mobile applications will help retailers improve back-end operations while simultaneously providing customers with a memorable front-end experience.
Contactless Payment
Due to COVID-19, it is safe to say contactless payments are here to stay. As retailers reopen across the country, operators are investing heavily in hygiene and contactless solutions to make consumers feel safe again. Public health guidelines recommend businesses use touchless and contactless forms of payments. Therefore, checkout-free payment systems will continue to gain popularity in 2021 and beyond. Whether it is contactless-enabled payment terminals or enabling guests to make payments on their smartphones without interacting with a staff member by utilizing QR codes or NFC tags, some retailers have adopted more contactless choices to provide consumers with the flexibility they crave. Moving forward, I expect even more retailers to join the contactless payment wave and enhance the shopping experience for customers.
Internet of Things (IoT)
To bring people back in physical stores, many retailers are utilizing IoT payment devices to create easy and unique in-store experiences. Self-checkout stores and contactless payments have grown in popularity and more retailers are offering the ability to purchase products with a mobile or smart wearable device and exit the store as quickly and easily as possible. This new in-store experience can eliminate a huge pain point for shoppers who want to pay quickly but still visit a physical store for their shopping experience.
Artificial Intelligence (AI)
Because of the supply chain hiccups created by the pandemic this year, the lack of AI in business operations will not be a blind spot going forward. Companies are realizing that AI enables them to collect, manage, and analyze data that increases supply chain visibility, which in turn optimizes warehouse inventory control. In the end, AI positions businesses to take proactive approaches to fulfill consumer needs rather than reactive measures, like so many companies had to do this year. Keeping items stocked, fulfilling orders, delivering products on time — these are all steps along the supply chain that can be controlled and monitored by AI, and could have resulted in different outcomes for retailers in 2020.
With the right technologies in place moving forward, retailers will be well-positioned to compete, survive, and even thrive in times of prosperity and uncertainty. 2021 might very well be a year that retailers experience both.
Joe Scioscia
Vice President of Sales
Comments