The Modern Retailer: Why Technology is More Essential in a Pandemic World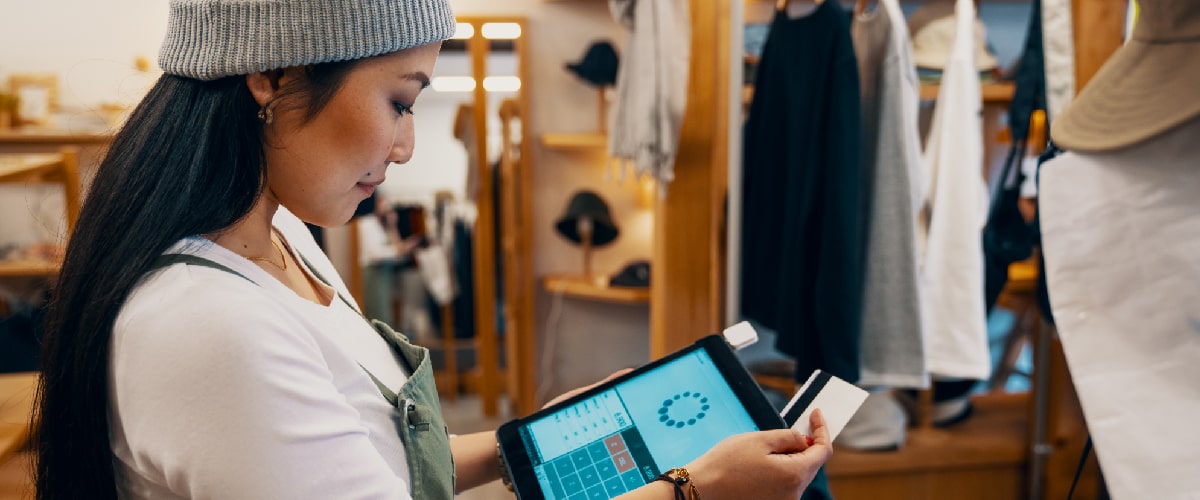 The National Retail Federation (NRF) is anticipating that retail sales will grow between 10.5% and 13.5% to more than $4.44 trillion this year as the economy accelerates its pace of recovery.
While the retail industry is seeing a resurgence of in-person traffic in recent months, the pandemic has proven that consumer adoption of e-commerce isn't going away. The pandemic has produced a larger technological shift, leading to a surge in e-commerce sales that are driven by online and mobile device shopping, ordering, and payment. After years of evaluating the demand for online shopping versus traditional brick-and-mortar, hybrid shopping that includes Buy-Online-Pickup-In-Store (BOPIS) and same-day delivery has had a significant impact on retail brands' reliance on these strategies.
Now, many consumers expect a blend of both in-person and online shopping, guided by fast delivery options and technology such as mobile apps. To handle both channels and track supply and demand, retailers must ensure they have data-driven technology at both the front and back-end of the supply chain. Especially because of higher consumer expectations for fast delivery in addition to traditional in-store shopping, having full visibility of inventory with applications within an ERP solution is crucial for modern retailers and convenience stores.
How retailers can stay on top of trends
A big shift since COVID-19 is a reliance on fast and safe delivery and curbside/BOPIS strategies. Even as the retail supply chain was being disrupted by pandemic-related delays, consumers increased their commitment to online shopping and home delivery, especially for consumer-packaged-goods (CPG). To stay on top of these demands, having the right technology is most important for retailers. For example, contactless payment through mobile offers a way to engage in a no-touch process, while providing uninterrupted service and customer satisfaction.
Today, many loyalty programs live within a mobile application. By connecting these application loyalty programs to the rest of your marketing strategy or by partnering with delivery service applications, companies can continue to build a trust relationship with consumers to further drive sales and business growth.
This goes for the supply chain as well, as many major convenience brands like Walgreens and CVS as well as smaller retail outlets have strengthened e-commerce processes and increased their ability to offer faster delivery services. By streamlining fulfillment processes using data analytics and adding warehouse management functionality, including mobile warehouse applications, retailers have been able to keep pace with increased sales.
Retail strategies employed during the pandemic
Many of the strategies employed during COVID-19 will continue for various reasons, especially since online shopping is here to stay. However, it is important not to forget the power of brick-and-mortar. Many people still prefer to shop in-store, especially for convenience items, and they might in some cases use a brand's website or app only for browsing and discount purposes. Brands who can successfully bridge these two worlds, bringing digital touchpoints to the in-store shopping experience for example, will be best-positioned to develop long-term relationships with consumers and set themselves apart. Another secret to success is a brand's fulfillment strategy. As fast delivery models are expected to match a brand's e-commerce success, aligning fulfillment processes with customer demand, driven by technology, is an important step in becoming a retail or CPG powerhouse.
Brands are working to align their in-store and ecommerce supply chains and distribution channels to ensure fast delivery of products to customers who still expect the same service whether it is in-store, BOPIS, or online order and shipped delivery. To accomplish a successful hybrid business, retailers must have a data-driven e-commerce strategy, as well as warehouse technology, mobile apps, and the ability to leverage data-driven insights into inventory, loyalty programs, and streamlining fulfillment processes.
Joe O'Hea
Sales & Account Manager
Comments