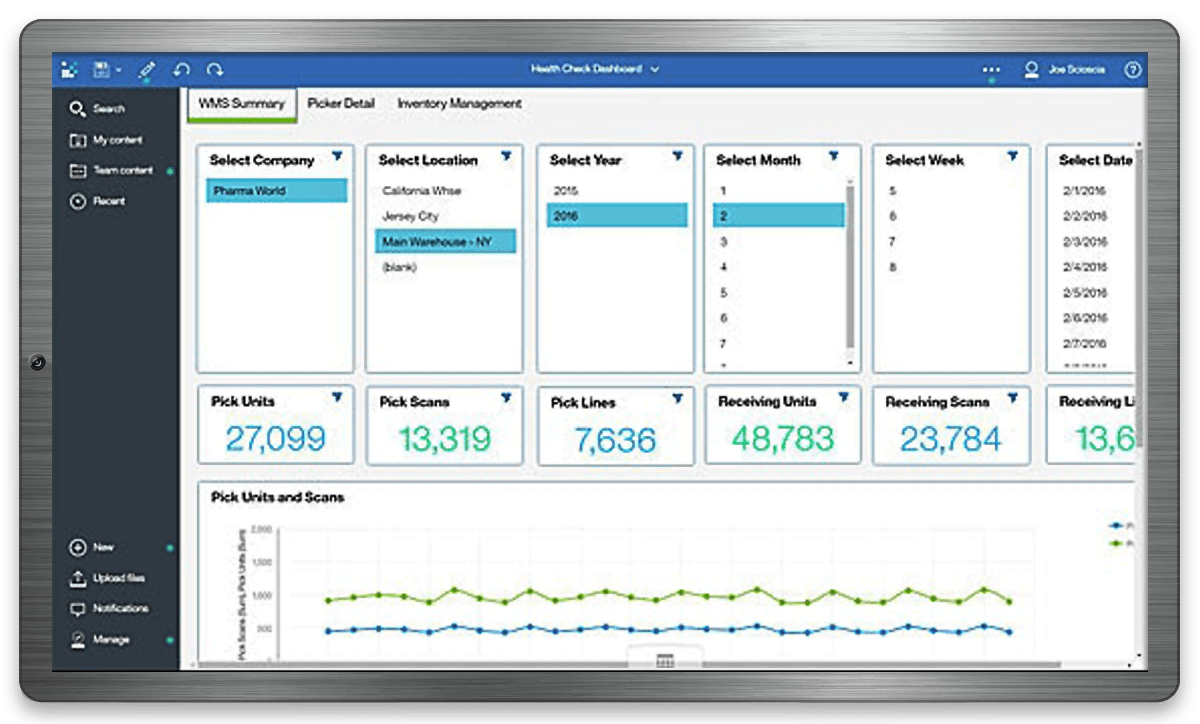 S2K's Warehouse Management Software (WMS) is designed to enhance productivity, improve overall warehouse efficiency, and provide real-time integration to the S2K Enterprise Software. This powerful application provides both paper based and RF bar code scanning of all inventory related transactions.
Users can also choose to integrate Voice Picking with S2K WMS with our standard integration to Vocollect. Integrated EDI features provide automatic UCC-128 label printing and electronic 856 advance ship notice file creation. S2K WMS features enable accurate and efficient tracking of goods throughout your facilities, optimizing your entire operation.

Core features include:

Fixed or Dynamic Bin Management
RF Receiving and Put Away
Bin Replenishments
Warehouse Transfers
RF Picking and Order Verification
Cycle and Physical Counting
Cycle and Physical Counting
Employee Performance Monitoring
EFFECTIVE RECEIVING AND PUT AWAY
S2K WMS supports receiving by individual purchase order or container. Upon receipt, the user can note the lots and serial numbers received and verify all quantities against the purchase order. Users can build pallets on the fly and print a pallet license plate for easy movement tracking of the item and lots assign to that pallet. During receipt the system will warn users of any issues or rules not being followed. Managers can be set to override preset rules if required. Once received the system will automatically assign the items to their put away location based on the rules established. Users simply scan the case or pallet and then scan the put away bin location for confirmation. S2K WMS keeps track of all movements for each product and every scan is date and time stamped.

OPTIMIZING ORDER AND ROUTE MANAGEMENT
Effective management of picking orders can truly increase picking efficiencies and improve warehouse throughput. S2K WMS contains an Order Manager program and Route Manager program, both designed to help you organize shipments for wave picking. From the Order Manager program users can review orders by requested ship date, ship via, customer account, priority, volume, and much more. Uses can then review shorts, adjust commitments, and select order for individual or consolidated picking. Picking tasks can be sent to RF guns by Area or Zone, and can be interfaced with voice picking technology. From the Order Manager model, managers have ability to review picking in progress and analyze performance by area, zone and picker. S2K Route Manager provides a comprehensive screen that allows users to view and manage all transactions that have been assigned to specific truck routes. Truck loads can be manually adjusted or sent to Roadnet® for route optimization.

ACCURATE PICKING AND VERIFICATION
S2K WMS supports paper based, RF picking and voice picking. Once the picking unit of work has been released from the S2Ks Order or Route Manager program, users will be sent to the correct location for picking which has been optimized for the orders and items being picked. Upon scanning, the system will verify that the correct bin, item and quantity were picked. A bar coded picking label can be automatically generated to track customer information on the tote, case or pallet that was picked. S2K WMS becomes the control system for all your automated picking equipment including carousels, conveyors, pick to light, voice pick systems, A frames, and much more.

Once picked, S2K WMS provides a valuable order verification module that allows the user to verify the items that have been picked against each customer order. Upon scanning, the system will verify that the correct item and quantity was picked. In addition, the system prompts for any serial numbers or lot numbers that may be required. Box (carton) tracking is available to allow the user to designate which items are in a specific box. For EDI orders, UCC-128 labels and 856 Advance Ship Notices can be generated. Standard interfaces to UPS Worldship and advanced multi-carrier shipping systems provide weight, cost and tracking information directly into S2K ERP.

WAREHOUSE TRANSFERS
Warehouse transfers can be automatically or manually created for both inter-location and inter-company transfers. Suggested transfers are based on the usage, transfer lead-time and minimum requirements of each location. Use the transfer maintenance program within S2K WMS to review suggested transfers and adjust the stock allocations for each item by location. Transfers are then released to the order manager for picking.

SIMPLIFYING CYCLE AND PHYSICAL COUNTING
S2K WMS cycle and physical counting modules provide management with tools to control and gauge the accuracy of current inventory records maintained in the locator system. Automatic cycle counting takes place continuously based on the cycle class code assigned in the item master file. The cycle count process writes transaction records, prints count sheets, allows RF-based counting and produces variance reports. Full physical inventory counting is supported using wireless terminals or count sheets. Detailed inquiries display all counting activity and variances reported.
Let's Connect
Please fill out the short form below to get connected or request a demo