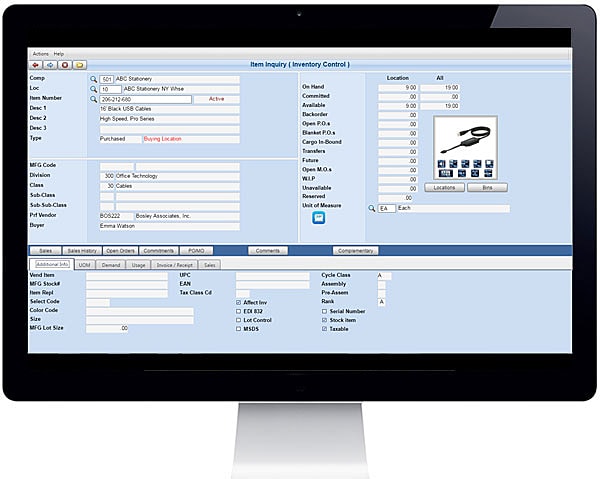 Inventory Management Software for Manufacturers & Distributors
S2K Inventory Management System is a fully integrated inventory control system designed to maximize your ROI and effectively and efficiently handle all your inventory related processes. With S2K's Inventory Management System applications, you have complete inventory control. You can track order commitments and shipments, inventory adjustments purchase orders and receipts, open work orders and WIP, and build kits. You can create and manage warehouse transfers and inter-company transactions, track lots and shelf life dates, track serial numbered items and much more. Comprehensive item inquiries provide a complete stock status of every item with drill down to transaction details, which can help you improve customer service.
REAL-TIME INVENTORY INFORMATION
In addition to a myriad of standard fields, S2K Inventory Management allows for an unlimited number of user defined fields that can be attached to the item master or the item balance file. Dynamic SQL searching makes it easy to find items by a wide number of data fields including part number, description, UPC, EAN, manufactures part number, vendor, product divisions and classes, and much more. Users can also link substitute and complementary items to improve fill rates and encourage up-selling. Multiple units of measure can be established with conversion factors for each item. Multiple UPCs (GTIN) make it easy to track the bar codes of each unit of measure in the warehouse. Serial number and lot control features provide complete tracking and historical data of every transaction.
HIGHLIGHT COST EFFECTIVE CHOICES TO BUYERS
S2K Inventory Management utilizes the latest inventory reordering formulas to calculate reorder points based on historical or forecasted usage, vendor lead times, seasonal trends and demand. Buyers will have access to EOQ calculations that can point out the most cost-effective choices. Items can be grouped into buy-lines for purchase analysis by product group to take advantage of special pricing and discounts. Global inquiries provide quick views of current availability, dead stock items, inventory value, turns and suggested reorder quantities. Warehouses and individual items can be flagged for centralized or decentralized purchasing and replenishment.
IMPORT TRACKING
S2K Inventory Management encompasses import cargo tracking that allows you to track VAI's product movement and calculate a true landed cost for each imported item. With complete integration to S2K Purchasing application, users can track containers, and the carrier, and view the estimated time of departure and arrival of every shipment. Users can assign unlimited number of cost factors to each shipment or item, and allocate each cost by unit, weight, cubic measure, or cost.