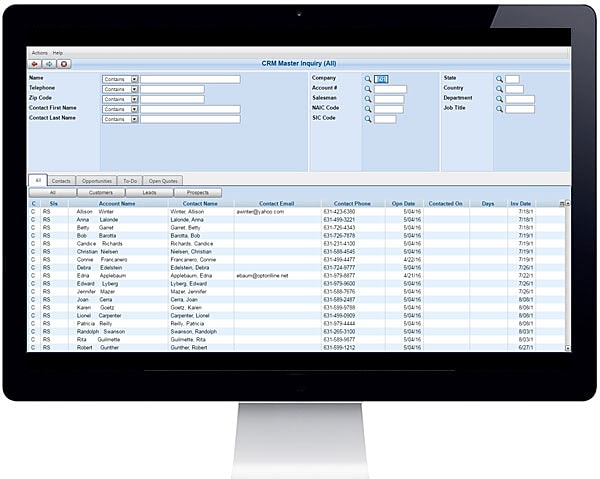 Customer Relationship Management (CRM) Software
S2K Customer Relationship Management (CRM) software improves your bottom-line by strengthening customer loyalty. This CRM suite of applications is a cost-effective way to identify, acquire, develop, and retain your most profitable customers. With one central database, our customer relationship management software allows you to use your existing technology while providing an enterprise-wide view of all interactions with customers and prospects. This customer relationship management software has an integrated contact management feature that provides real time access to all customer and product information, and marketing automation tools that generate effective, consistent and timely campaigns.
Contact Management
S2K CRM facilitates complete order processing and customer / prospect tracking. One comprehensive sales team dashboard allows you to:
Generate quotes, enter orders, and track specific opportunities
Review current order status
Check item pricing and availability
View customer account information and history
Create to-do lists to flag follow-up activity
S2K CRM software gives you unlimited user defined fields, at the customer, contact, and opportunity level to provide you with a flexible database for searching and analysis plus detailed notes to help track all communications within each account. S2K CRM software gives everyone in your organization access to the same, up-to-date information, allowing them to react quickly to customer demands and provide the highest level of customer service.
Marketing Automation
Take advantage of your contact database with automated marketing campaigns that allow you to email, fax or mail sales or promotional related material directly from the sales team dashboard. S2K CRM software contains advanced sorting criteria options that enable you to select a specific target audience for your campaign. By using the group e-mail feature, you can send promotional sales information, item coupons, new product information, updated price lists and collateral instantly to selected contacts. Export options allow you to import lists into online marketing tools for advanced campaign tracking and analysis. All campaign broadcast information will be noted in the contact management notes file for easy review and follow up. This powerful tool allows you to increase the relevance and timing of your marketing messages, develop long-lasting customer relationships, and provide a valuable "dialog" for additional customer contact.
Sales Force Automation
S2K CRM data is the foundation for our S2K Sales Force application. Today, immediate access to CRM and enterprise data is essential to your sales team in order to be productive. S2K Sales Force is a comprehensive online sales tool optimized for the supply chain professional. It provides browser-based access to CRM and Enterprise data to allow your sales team to leverage mobile devices and make the most of every sales call, whether they are in the office or out in the field.