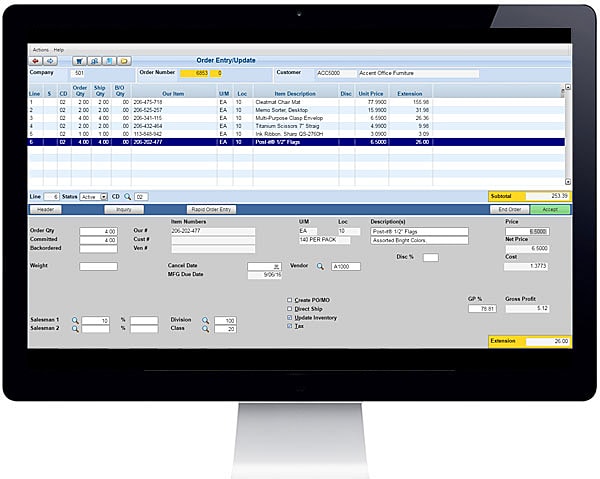 Customer Orders
Effective order processing is the first step in providing outstanding customer service. Immediate access to inventory, purchasing, manufacturing, and customer data is critical. S2K's powerful order entry application was designed to allow rapid entry of customer orders, all while providing full access to enterprise data to answer your customers most difficult questions. With this dynamic application users can check stock across multiple locations, check the price history on any item, copy orders or items from history, review lots and shelf life dates, process serial numbered items, kits, and much more. Advanced options allow users to process direct shipment, and special orders at the line item level. For rapid entry, users can place orders from a customer shopping list or from a predetermined order guide. Upsell options allow users to view current promotions, price breaks, and complementary items on-the-fly.
With our integration to S2K Manufacturing, users can review the component stock status of finished goods, check on open production and relay Available to Promise (ATP) dates to the customer, and they can use the built in configurator to choose features and options to build the Bill of Material (BOM) on-the-fly.
From one comprehensive application, users can process orders, quotes, returns, standing orders, and future orders. S2K Order Entry is also integrated with S2K CRM / Sales Force. From order entry sales reps can create follow up tasks on any transaction, access CRM notes, link quotes to opportunities, and track the effectiveness of marketing campaigns. With S2K Order Entry you will not only improve your customer service, but you will exceed your customers' expectations.