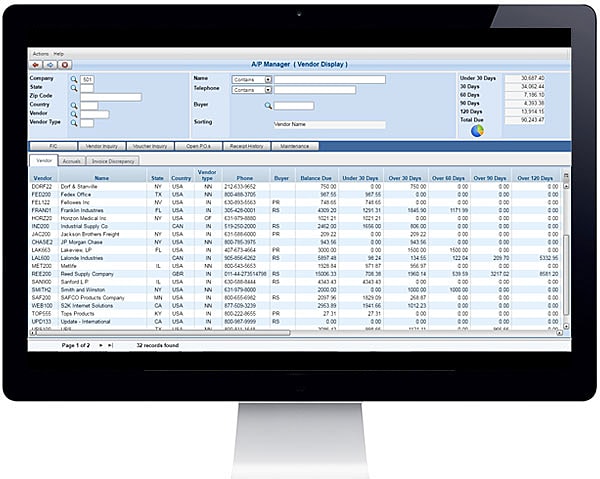 Accounts Payable
S2K Enterprise Accounts Payable software allows you to maintain and control every aspect of the management of your expenditures. It turns the tedious and time-consuming management expenditure process into a manageable piece of your corporate puzzle.
Count on VAI's Accounts Payable software to:
Maintain complete vendor information including unlimited contacts, e-mail addresses, remittance address, purchase order addresses, and detailed notes.
Define General Ledger accounts and pre-set distribution percentages per vendor for automatic allocations.
Provide powerful inquiries that offer instant access to information including vendor invoices, debit memos, credit memos and payments.
Enable you to view or print detailed purchase journals as well as open accruals on demand.
Automate payment processing with check printing, one-up check printing, letters of credit, wire transfers, and ACH processing.
Set automatic tolerance levels to flag buyers, through work flow alerts and conditional e-mails, if invoice discrepancies exist.
Include flexible payment processing options such as automatic and manual payment selections, hand written check processing, letters of credit, and wire transfers.
Provide bank reconciliation with the ability to clear checks and print reports that show cleared or outstanding checks.
Interface S2K Accounts Payable with the paperless accounts payable solution from MetaViewer, which lets you automate your approval workflow.