VAI Named to Food Logistics' 2018 FL100+ Top Software and Technology Providers List
December 17, 2018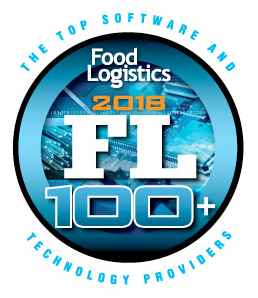 Ronkonkoma, N.Y. — December 17, 2018 — VAI, a leading ERP software developer, today announced that Food Logistics, the only publication exclusively dedicated to covering the movement of product through the global food supply chain, has named VAI to its 2018 FL100+ Top Software and Technology Providers list. VAI S2K Enterprise for Food provides food manufacturers, distributors, and grocery retailers with the ability to streamline operational processes, comply with food safety regulations, enhance employee productivity, and improve customer service.
The annual FL100+ Top Software and Technology Providers list serves as a resource guide of software and technology providers whose products and services are critical for companies in the global food and beverage supply chain.
"The digital supply chain continues its rapid emergence, bringing with it expanded capabilities that impact visibility, security, compliance and efficiency," remarks Lara L. Sowinski, editorial director for Food Logistics and its sister publication, Supply & Demand Chain Executive. "Every aspect of the global food supply chain stands to benefit from new and innovative software and technology that is fundamentally changing the global food supply chain."
"VAI is honored to be included in the 2018 FL100+ Top Software and Technology Provider List," said Ira Dannenberg, vice president of R&D – Food Division. This prestigious recognition serves as a reminder to ourselves and reinforces our commitment to our customers that S2K for Food is the best food solution to run their businesses. With S2K for Food, our customers have the ability to make better informed business decisions, be proactive with real-time work flow alerts, improve inventory management and purchasing, monitor business goals with key performance indicators, make accurate on-time delivery of products, and so much more."
Companies on this year's 2018 FL100+ Top Software and Technology Providers list will be profiled in the November/December 2018 issue of Food Logistics, as well as online at www.foodlogistics.com.
About Food Logistics
Food Logistics is published by AC Business Media, a business-to-business media company that provides targeted content and comprehensive, integrated advertising and promotion opportunities for some of the world's most recognized B2B brands. Its diverse portfolio serves the construction, logistics, supply chain and other industries with print, digital and custom products, events and social media.
About VAI
VAI is a leading independent mid-market ERP software developer renowned for its flexible solutions and ability to automate critical business functions for the distribution, manufacturing, retail, and service sectors. VAI's software solutions are backed by a wealth of experience and a reputation for excellence that countless companies rely on. With specific ERP solutions for Hard Goods, Food, and Pharmaceutical companies, VAI has helped some of the most recognized companies address key industry requirements and deliver bottom-line results. VAI continues to innovate with new solutions that leverage analytics, business intelligence, mobility, and cloud technology to help customers make more informed business decisions and empower their mobile workforce. VAI is headquartered in Ronkonkoma, NY, with branch offices located in Florida, Illinois, and California. For more information, visit www.vai.net, follow @VAISoftware on Twitter, vai_software on Instagram, and "like us" on facebook.com/VAISoftware.
For more information, please contact:
Diane Dady
VAI
631-619-4729
Joel Richardson
Racepoint Global
617-624-3298