Press Release
VAI Named to CRN's 2018 Solution Provider 500 List
June 4, 2018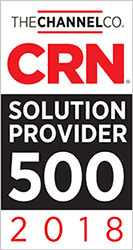 Ronkonkoma, N.Y. – June 4, 2018 – VAI, a leading ERP software developer, today announced that CRN®, a brand of The Channel Company, has named VAI to its 2018 Solution Provider 500 list. The Solution Provider 500 is CRN's annual ranking of the largest technology integrators, solution providers and IT consultants in North America by revenue.
The Solution Provider 500 is CRN's predominant channel partner award list, serving as the industry standard for recognition of the most successful solution provider companies in the channel since 1995. The complete list will be published on CRN.com, making it readily available to vendors seeking out top solution providers to partner with.
CRN has also released its 2018 Solution Provider 500: Newcomers list, recognizing 26 companies making their debut in the Solution Provider 500 ranking this year.
"VAI is honored to be recognized by CRN as one of the largest solution providers in North America," said Maggie Kelleher, director of business development, VAI. "Together with our partners, we strive to deliver comprehensive cloud-based, multi-location, and ROI-producing ERP solutions to help our customers succeed in a rapidly advancing technological landscape. We remain committed to delivering the technologies, services, and support our customers have come to expect and rely upon from VAI and our partners, exemplifying our commitment to the software industry today and in the years ahead."
"CRN's Solution Provider 500 list spotlights the North American IT channel partner organizations that have earned the highest revenue over the past year, providing a valuable resource to vendors looking for top solution providers to partner with," said Bob Skelley, CEO of The Channel Company. "The companies on this year's list represent an incredible, combined revenue of $320 billion, a sum that attests to their success in staying ahead of rapidly changing market demands. We extend our sincerest congratulations to each of these top-performing solution providers and look forward to their future pursuits and successes."
The complete 2018 Solution Provider 500 list will be available online at www.crn.com/sp500 and a sample from the list will be featured in the June issue of CRN Magazine.
Follow The Channel Company: Twitter, LinkedIn and Facebook
Tweet This:
@TheChannelCo names @VAISoftware to @CRN 2018 SP500 list #CRNSP500 www.crn.com/sp500
About the Channel Company
The Channel Company enables breakthrough IT channel performance with our dominant media, engaging events, expert consulting and education, and innovative marketing services and platforms. As the channel catalyst, we connect and empower technology suppliers, solution providers and end users. Backed by more than 30 years of unequaled channel experience, we draw from our deep knowledge to envision innovative new solutions for ever-evolving challenges in the technology marketplace. www.thechannelco.com
About VAI
VAI is a leading independent mid-market ERP software developer renowned for its flexible solutions and ability to automate critical business functions for the distribution, manufacturing, specialty retail and service sectors. An IBM Gold Partner, VAI is the 2012 IBM Beacon Award Winner for Outstanding Solutions for Midsize Businesses. VAI continues to innovate with new solutions that leverage analytics, business intelligence, mobility and cloud technology to help customers make more informed business decisions in real-time and empower their mobile workforces. VAI is headquartered in Ronkonkoma, NY with branch offices in Florida, Illinois and California. For more information, visit www.vai.net, follow @VAISoftware on Twitter or "like us" on facebook.com/VAISoftware.
FOR MORE INFORMATION, PLEASE CONTACT:
Diane Dady
VAI
631-619-4729
Joel Richardson
Racepoint Global
617-624-3298