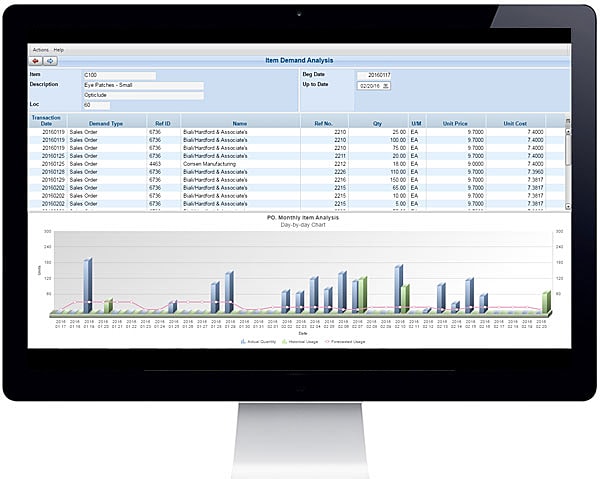 Purchasing
Automated purchasing systems are a key tool in helping businesses reduce inventory and increase sales. They are imperative in helping maintain customer service levels and retaining your customers. Companies that utilize automated forecasting and purchasing tools will also have a strategic advantage in lower costs and increased profits.
The goal with any automated buying solution is to generate purchase order quantities that support the company's strategic goals for profits and customer service, while doing so in the most efficient and economic fashion. S2K's Suggested Purchasing application can optimally push order quantities up to get prepaid freight, or to hit vendor minimums, or to cube out a full container, if desired - all while honoring pack sizes. Additionally, it can consider multiple warehouses in the distribution network and check for overstocked items and facilitate stock transfers before buyers place orders to the vendor. By calculating the costs and upcoming demand for each of your items, S2K Suggested Purchasing can tell you if a vendor incentive makes economic sense, and if so, how much more of each item to buy.
Proper Forecasting
By leveraging historical sales data, systems can forecast demand and predict long-range trends, as well as seasonality for each item. VAI's forecasting system captures seasonality and trends, and calculates how volatile the sales are for each item. No matter how good the forecasting system is, there are always going to be items with volatile and unpredictable swings in sales beyond seasonality and trends. By incorporating sales volatility per item into the safety stock calculations, companies will be covered for sales spikes that occur above the forecasted demand.
S2K Suggested Purchasing evaluates all demand and supply requirements to create time-phased replenishment plans for each product at each location.
Evaluations done by forecasting include:
Lead-time length and variability
Desired customer service-level requirements
Order cycle economics
Item level safety-stock and targets
Order generation rules and preferences
Take the guesswork out of purchasing
The typical distributor stocks thousands of items at each warehouse. Buyers and planners do not have time to manage each item individually; they need to focus on selected items that require action. S2K's Suggested Purchasing application performs the complex calculations for each item at each location, and then flags those items with specific conditions that are beyond user defined tolerances. Most importantly, the company's capabilities to handle important clients are greatly improved because the investment in inventory versus customer service tradeoff is now visible and controllable.
Import Efficiency
Many distributors have made the strategic decision to gain cost efficiencies by importing products from other parts of the globe. Although this can certainly lower unit costs, it creates complexities in other areas such as significantly increased and variable lead times. This poses a new challenge to buyers and planners, who must now place orders for products that will not arrive for months. Automated purchasing systems can factor in the lead time for each item, at each location, in its calculations of optimized order quantities. They also factor in the variability of the vendor lead time into its safety stock calculations to provide insurance against late deliveries.