Service & Repair
Streamline operations with S2K Enterprise Software to ensure that your business can capitalize on money saving opportunities without sacrificing on service.
VAI S2K Service and Repair Software enables companies to fully integrate service management operations with other enterprise applications. It streamlines your operations to ensure that your business can capitalize on money-saving opportunities without sacrificing service. Designed to manage service calls and equipment repair, this module supplies managers with the kind of vital information required for an integrated business system. Our software suite brings together all the necessary components for rapid response repair and delivers an immediate return on investment. S2K Service and Repair reports help you track key information such as profit and loss, parts availability, and technician productivity.
Service Call Processing
The S2K Service and Repair application is a field service software solution that provides a means of easily recording and tracking service repair calls through their various stages. Customer information is easily accessed from the customer and ship-to master files. Additionally, service call processing information includes:
Service Call Dispatch
In addition to service call customer information, our field service software system supports technician tracking and assignment, providing the user with up-to-the-minute information on when and where a technician can be available, enabling you to provide your customers with the best possible service. Technician assignment highlights include:
Technician and service location assigned to the service call
Date the call was assigned to a technician
Estimated time of arrival at the customer site
Status codes that track the service call within the system
Support for inquiry of existing technician schedules
Service Call Billing
At the completion of work performed for a service call, S2K Service and Repair Software supports tracking of time and materials in preparation for billing to ensure accurate and prompt billing of services performed. The billing process features:
Billable travel and labor hours
Parts used to repair the item
Problem and resolution codes
Warranty tracking and billing
Interactive creation of customer invoice
Detailed service history by equipment and serial number
Preventative Maintenance (PM)
Keep track of an unlimited number of contracts and equipment per contract
Utilize a flexible advanced billing schedule: select day, month and amount to bill
Define a preventative maintenance schedule for equipment under contract
Specify specific rates for work performed under contract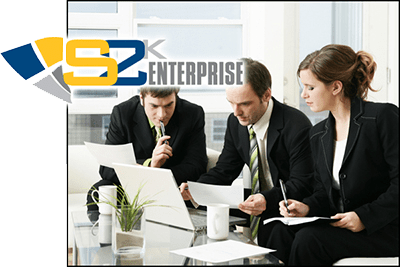 S2K Enterprise
VAI's technology roadmap, our shared vision with IBM, provides companies with a business model based on best industry processes that leverage technology to create value and improve performance. The S2K family of products includes solutions for Distribution, Manufacturing, Retail, Service, and Rental companies, with industry specific features for Durable Goods, Apparel, and Pharmaceutical. Regardless of industry, organizations that recognize and use information technology to help their businesses react to competition and quickly respond to change will be tomorrow's industry leaders. S2K Enterprise Software harnesses the power of technology and enables businesses to better anticipate consumer needs and enhance productivity.