5 Key ERP Technology Solutions Your Wholesale Food Distribution Business Should Adopt for a Successful 2019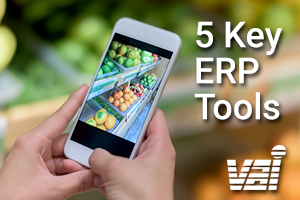 Cloud computing is allowing businesses of all sizes to compete with larger enterprises by giving them access to the advanced technology they require to improve efficiencies, reduce costs, and grow. In addition, technology can help companies meet the challenges of the FSMA by providing full traceability and providing comprehensive reports for auditors.
As we advance into a New Year, we invite you to join us for an informational webinar and a review of the key ERP technology solutions that your Wholesale Food Distribution business should adopt in order to be successful in 2019. During this webinar, we will highlight the following applications: Mobile Order Entry / Route Sales, Suggested Purchasing, Route / Warehouse Management, Business Intelligence, and CRM/Marketing Automation. For more information and to register, click on the link below.
Event Properties: All event times below are in EDT. (Eastern Daylight Time)
Event Date:
01 - 24 - 2019 02:00 PM
Event End Date:
01 - 24 - 2019 03:00 PM