VAI Wins Gold in the 14th Annual 2019 IT World Award® Green IT Category for S2K Enterprise for Food
July 30, 2019
VAI wins Gold in the 14th Annual 2019 IT World Award® Green IT Category for S2K Enterprise for Food
Ronkonkoma, N.Y. – July 30, 2019 - VAI, a leading ERP software developer, announced today that Network Products Guide, the industry's leading technology research and advisory guide, has named VAI a Gold winner in the 14th Annual 2019 IT World Awards® in the Green IT category for S2K Enterprise for Food. These industry and peer recognitions from Network Products Guide are the world's premier information technology awards honoring achievements and recognitions in every facet of the IT industry.
VAI's integrated S2K Enterprise for Food software is designed to help food manufacturers and distributors achieve a greener supply chain by leveraging tools to help move product faster, easier, and more efficiently. With S2K for Food, companies can reduce waste and run leaner while increasing revenue, enhancing customer service, and adhering to best practices in food safety.
An annual achievements and recognition awards program with active participation from a broad spectrum of industry voices, the coveted annual IT World Awards recognition program encompasses the world's best in organizational performance, products and services, hot technologies, executives and management teams, successful deployments, product management and engineering, customer satisfaction, and public relations in every area of information technology.
Judges from a broad spectrum of industry voices from around the world participated and their average scores determined the 2019 award winners. Winners will be honored in San Francisco on Monday, October 28, 2019 during the annual SVUS Red Carpet Awards Ceremony Dinner in San Francisco attended by the finalists, winners, judges, and industry peers.
"It's an honor to be named a winner by IT World Awards for this esteemed industry and peer recognition," said Ira Dannenberg, vice president of R&D – food division at VAI. "We believe that technology has the power to reshape the supply chain, and make practices more sustainable in the process. VAI's S2K Enterprise for Food Software includes applications that enhance sustainability and optimize efficiency and performance, leading to fuel savings, waste reduction, improved turns, and reduced overstock inventory finances.
About NPG's IT World Awards
As industry's leading technology research and advisory publication, Network Products Guide plays a vital role in keeping decision makers and end-users informed of the choices they can make in all areas of information technology. The Annual IT World Awards is part of the SVUS Awards® recognition program from Silicon Valley in the United States of America which also includes other programs such as CEO World Awards, Consumer World Awards, Customer Sales and Service World Awards, Golden Bridge Awards, Globee Awards, Info Security PG's Global Excellence Awards, Pillar World Awards, PR World Awards, and Women World Awards. To view the complete list of winners visit https://ceoworldawards.com/winners/2019-winners/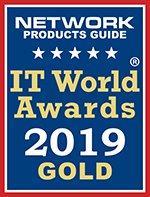 About VAI
VAI is a leading independent mid-market ERP software developer renowned for its flexible solutions and ability to automate critical business functions for the distribution, manufacturing, retail, and service sectors. VAI's software solutions are backed by a wealth of experience and a reputation for excellence that countless companies rely on. With specific ERP solutions for Hard Goods, Food, and Pharmaceutical companies, VAI has helped some of the most recognized companies address key industry requirements and deliver bottom-line results. VAI continues to innovate with new solutions that leverage analytics, business intelligence, mobility, and cloud technology to help customers make more informed business decisions and empower their mobile workforce. VAI is headquartered in Ronkonkoma, NY, with branch offices located in Florida, Illinois, and California. For more information, visit www.vai.net, follow @VAISoftware on Twitter, vai_software on Instagram, and "like us" on facebook.com/VAISoftware.
For more information, please contact:
Diane Dady
VAI
631-619-4729