VAI Named to Software Magazine's Annual Software 500 Report
November 15, 2018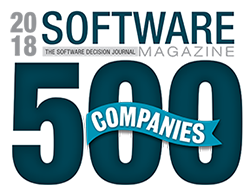 Ronkonkoma, NY – November 15, 2018 – VAI, a leading ERP software developer, today announced its inclusion in Software Magazine's Software 500 ranking of the world's largest software and service providers. VAI was recognized for product excellence and customer adoption on the annual list of the top growth leader companies. VAI's S2K ERP software improves customer communication, increases inventory accuracy, and optimizes operational efficiency for companies worldwide.
Now in its 36th year, the Software 500 is a revenue-based ranking of the world's largest software and services suppliers, and their IT professionals, software developers, and business managers involved in software and services purchasing. The Software 500 provides details on how trends within the software and services industry unfold on a revenue and growth basis.
This year's Software 500 looks at data from the 2017 fiscal year, comparing it to 2016 revenue data from both public and private software and services companies. The data evaluated includes revenue from software licenses, maintenance and support, training, software-related services, and consulting. The Software 500 is published in print and online at softwaremag.com as both a digital edition and searchable database.
"We are thrilled to once again be recognized by Software Magazine for our commitment to advancing the ERP market," said Bob Vormittag, CEO of VAI. "At VAI, we deliver the most advanced technology available, including analytics, mobile, and cloud capabilities to help our customers succeed and grow their businesses. We will continue to deliver comprehensive solutions that address our customers' unique environments to exemplify our commitment to the software industry in the years ahead."
About VAI
VAI is a leading independent mid-market ERP software developer renowned for its flexible solutions and ability to automate critical business functions for the distribution, manufacturing, retail, and service sectors. VAI's software solutions are backed by a wealth of experience and a reputation for excellence that countless companies rely on. With specific ERP solutions for Hard Goods, Food, and Pharmaceutical companies, VAI has helped some of the most recognized companies address key industry requirements and deliver bottom-line results. VAI continues to innovate with new solutions that leverage analytics, business intelligence, mobility, and cloud technology to help customers make more informed business decisions and empower their mobile workforce. VAI is headquartered in Ronkonkoma, NY, with branch offices located in Florida, Illinois, and California. For more information, visit www.vai.net, follow @VAISoftware on Twitter, vai_software on Instagram, and "like us" on facebook.com/VAISoftware.
For more information, please contact:
Diane Dady
VAI
631-619-4729
Joel Richardson
Racepoint Global
617-624-3298